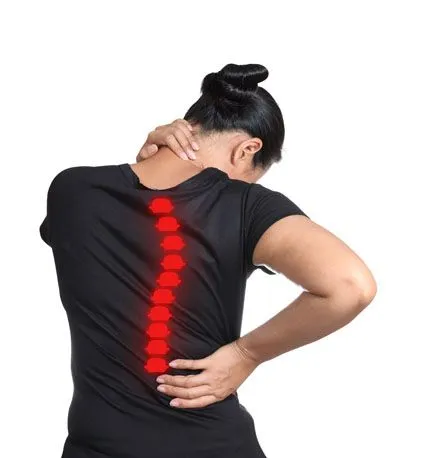 Our Chiropractic office in West Dundee is available for scoliosis care.
What is Scoliosis?

Surrounding the spine are hundreds of tiny muscles. Each of these muscles has many nerves inside of them called proprioceptors. When a muscle contracts, proprioceptors send information into the brain saying "here I am in space." When the spine becomes immobile, whether due to sedentary living or spinal subluxations, we lose the ability for our brain to know where our body is in space. This disrupts the brain's ability to coordinate muscle contractions leading to abnormal spinal function and structure.

Scoliosis (sideways curves) is estimated to affect almost three percent of the American population. Other abnormal spinal alignment issues include kyphosis and lordosis (upper and lower back curves), which dwarf the number of cases of scoliosis. Diagnosis of any of these issues is best conducted by standing x-rays.
The Benefits of Chiropractic Care for Scoliosis

There are a tremendous number of benefits of chiropractic care for scoliosis. Dr. Craig performs a completely non-invasive procedure, so the patient does not have to worry about surgery. Additionally, our office focuses on restoring healthy spinal mobility which will restore healthy proprioceptive input back into the brain. When normal proprioception is restored, scoliosis deformities can either be reversed, stopped or slowed down. Results depend on how early the curve changes are detected. When indicated necessary, spinal traction can restore healthy ligament flexibility to aid in curve correction. Both in office and home care exercises will target large muscle imbalances which may also be components of the problem.
See Your Results
If you suffer from scoliosis, immediate help is available. With the benefit of our chiropractic team, you can achieve:
Reduced discomfort and pain
More complete range of motion and flexibility
Improved curve changes when applicable
Enhanced quality of life
Why not contact Spinal Health Center at (224)484-8426 today to learn more about how chiropractic care can help people with scoliosis or other curve changes? We are here to help, and we look forward to starting your spinal health journey.