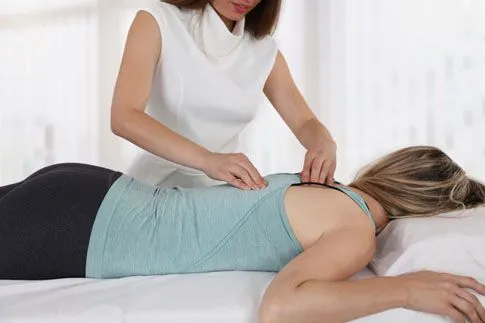 Our office in West Dundee is available for chiropractic care.
The first appointment focuses on consultation and an initial exam, in which Dr. Stear explores your current state of spinal health and determines if chiropractic care is right for you.
During Your Consultation with Dr. Stear
During the consultation, Dr. Stear may recommend x-rays to reveal the internal structure of your spine. X-rays can also help Dr. Stear look for underlying diseases of the spine, such as spinal and disc decay, spinal curvature, and other conditions that respond to chiropractic care.
Depending on what Dr. Stear finds during the consultation and examination, your next appointment may include chiropractic adjustments and other ancillary care.
The Objective of Chiropractic Adjustments
The bones of your spine, known as vertebrae, sit on top of each other somewhat like a deck of cards. Flexible joints between the vertebrae help you bend, twist, and move in a variety of ways. Nerves extend from your spinal cord through tiny holes in the vertebrae; these nerves help control sensation, movement, and motor coordination in your arms, legs, and throughout your body.
The objective of chiropractic adjustments is to restore healthy mobility to spinal mobility problems called subluxations. Subluxations initially cause local soft tissue damage, muscle spasticity, and altered nerve input in brain centers. This can cause pain, numbness, and many other symptoms throughout the body. Subluxations can alter autonomic process throughout the body (organ function) and, worst of all, can even cause no symptoms. If you want to know why no symptoms are a big problem, ask anybody what they felt like the day before they had a heart attack- they may have felt just fine. Long term, spinal subluxations decay the spine. When they are left uncorrected, they turn people into that person with a humpback you see in the nursing home.
Dr. Stear's objective is to correct spinal damage giving you the relief you want, relief that sticks and preventing your spine from rotting!
For more information contact Spinal Health Center at (224)484-8426.